Dental Implants in Kitchener, ON
Dental implants offer a lot of advantages for people who have lost one or more teeth. Secured in the socket where the original tooth root was, dental implants are a significant improvement over dentures. Dental implants look better, make eating more enjoyable and are as close as you can get to replace a lost tooth. As your Kitchener dentist, we are your resource for dental implants. Contact us with any questions, or to schedule your appointment to see if you are a good candidate for dental implants.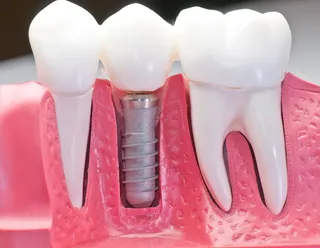 What Are Dental Implants?
Dental implants are a made up of three main components – a root implant, a connector post and a crown. The root implant replaces the lost tooth root, attaching directly to the bone socket. After the root implant is placed, the jawbone is left to heal around the implant. After the bone heals, the implant is secure and can serve as the base for the connector post, known as an abutment, and the crown that attaches to the post.
Dental implants can be made to match the surrounding teeth, offering a secure, durable and attractive replacement for the missing tooth. They can also serve as a foundation for dentures if your dentist determines that dentures are preferable to a crown.
What Are the Advantages of Dental Implants?
Eating is more like having real teeth - The implants are attached to your jaw in the same way your teeth are, which makes eating more comfortable and more natural feeling.
Speaking is easier - Dentures can move around in the mouth, leading to slurring and difficulty speaking. Implants are secure, so you can speak normally.
They look natural - Implants are much more like real teeth in appearance than dentures. They can often be indistinguishable from your real teeth without closer inspection.
They feel better - Dentures can be uncomfortable and even painful, while implants feel much like your normal teeth. They do not slide around and rub your mouth raw.
They can last for decades - Dental implants must be cared for in the same way natural teeth are – through regular brushing, flossing, and checkups with your dentist near Kitchener. But as long as good dental hygiene is maintained, they can last for many years. Many people have implants last the rest of their lives.
What to Expect When You Get Dental Implants
Most people are good candidates for dental implants, as long as they are in relatively good health and have good oral hygiene. When you come to our dental office and express interest in implants, we will conduct a thorough examination to make certain that you are a good candidate. After your exam, we will schedule an appointment for the implant of the tooth root. Once we have implanted the root, we will give you time to heal – usually 12 weeks to 16 weeks.
After you have healed, you can come back to our dental office and we will install the abutment and a crown that matches the color of your teeth. The new implant may take a little time to get used to, but soon you should be enjoying all the advantages of your implant just as you would your normal teeth.
Want to learn more about Dental Implants from Kitchener East Family Dental?
Call our Kitchener, ON dental office at (519) 578-2419 to schedule an appointment!
---
Categories