Cosmetic Dentistry in Kitchener, ON
Everyone wants a great-looking smile with beautiful, healthy-looking teeth, but the fact is, few of us - if any - are actually born with perfect smiles. The good news - cosmetic dentistry can help. As a top-rated dentist, Kitchener East Family Dental offers a complete array of cosmetic dentistry treatment and procedures to help you get the results you're looking for, whether you want to correct a single issue or you're interested in a complete "smile makeover."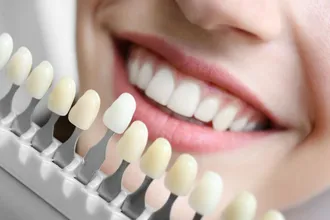 What is Cosmetic Dentistry?
Cosmetic dentistry includes all the treatments and services that are focused on helping you improve defects in your smile so you can look your best and feel more confident. Some cosmetic treatments also provide a restorative benefit, repairing issues like cracks or fractures so your smile looks healthy - and more youthful. Since cosmetic dentistry includes so many techniques, it's easy for your dentist to develop a treatment plan that's based specifically on your needs so you can feel confident you'll get the results you're looking for.


What Types of Services and Treatments is Considered Cosmetic?
Our practice offers an array of treatment options to help you get the results you want, including:
Porcelain veneers - Designed to camouflage cosmetic issues like deep discoloration, chips, uneven tooth surfaces, gaps between teeth and even crooked teeth, veneers are one of the most versatile - and most popular - cosmetic dentistry options.
Teeth whitening - Professional whitening offers results that are more consistent and longer-lasting than DIY treatments.
Cosmetic dental bonding - Bonding uses tooth-colored resins to correct many of the same issues as veneers, but at a lower cost.
Gum recontouring - Recontouring is a great way to correct smiles that look "gummy" and teeth that look too small.
Dental crowns - Designed to surround the entire visible part of your tooth, crowns can hide dark fillings and restore teeth that are weak or damaged.
Dental bridges - A great option for replacing one or a few missing teeth, bridges can be removable or permanently attached.
Dentures - The most popular option for replacing several missing teeth, our dentures are lightweight, durable, comfortable and natural-looking.
Dental implants - More secure and comfortable than dentures and bridges, implants are anchored into your jaw bone to replace one or more missing teeth.
Tooth-colored fillings - These fillings are designed to blend with the surrounding tooth material so the restoration is virtually invisible.
How Our Dentist near Kitchener Can Help You Choose
The first step in getting that smile you've been hoping for is to schedule a consultation with Kitchener East Family Dentistry. As a leading dentist near Kitchener, our team is skilled in evaluating smiles and recommending treatments that can help restore your teeth and gums so you look your best. Before your visit, spend some time smiling in a mirror and make a list of all the issues that bother you. Your list will serve as a great "jumping-off" point to help us create a treatment plan that's ideal for your goals.
From Cosmetic Treatments to Family Dentistry, Our Dental Office in Kitchener Can Help
If you're looking for an experienced cosmetic dentist Kitchener East Family Dental is ready to provide you with the solutions you need to get that beautiful smile of your dreams. Plus, as a leading family dentistry practice, our team can provide every member of your family with optimized care for all sorts of issues, offering a convenient solution for all your oral health needs.
Want to learn more about Cosmetic Dentistry from Kitchener East Family Dental?
Call our Kitchener, ON dental office at (519) 578-2419 to schedule an appointment today!

---
Categories